Click on the photos below to learn more about lodging.
Lake Retreat can accommodate groups as small as 10 guests and as large as 400 guests. Along with your sleeping area, all groups will be assigned at least one meeting space. All lodges have meeting space inside.
All accommodations require that you bring your own bedding, toiletries and towels.
Fireside Lounge
Fireside lounge is the perfect place to do a Bible study or small group gathering - read a book, play games, or just hang out. It's equipped with *wifi, coffee, tea, and bathrooms. During the summer season, this is where our snack shack is located (behind wood door).
Fireside Lounge is home to our Sip and Paint activity.
Fireside is a common space that is open to all guest staying at Lake Retreat.
Lundgren Lodge Meeting Room
Lundgren Lodge Meeting Room is inside of the Lundgren Lodge on the main floor. It seats 50-80 guests and has a large deck right off of the meeting space, over-looking the scenic lake.
It also features a kitchenette with included coffee service, microwave, sink, and fridge for snacks. It has a sound system with 3 channels (1 mic included), as well as a large screen TV.
*Wifi is available.
Okerson Lodge Meeting Room
Okerson Lodge meeting space holds over 100 guests and has a  large screen TV, microwave, fridge, sink and included coffee service. This meeting space is located on the main floor of Okerson Lodge and is rented along with that building.
C.G.M. Meeting Space
This lovely meeting space overlooks the lake and is centrally located just to the right of the dining hall. This meeting space often accompanies the Hilltop Cabins.
Available for rental from September - May.
Chapel
The Chapel is our largest meeting space and it can hold over 350+ guests. It features a stage and two attached break-out rooms (Alder and Maple Room) that can seat 25-35 guests. It has a 12 channel sound system, screen, projector, and a microphone*. (Please plan to bring instruments, additional mics, mic cords, laptop, connectors, etc.)
The Chapel is rented out with the Lakeside Cabins OR with groups of 100+ guests.
The Chapel has *Wifi and air-conditioning.
Lakeside Cabins
Lakeside Cabins can sleep 60 guests and is often paired with Chapel/Alder/Maple for meeting space.
Lakesides are located just steps from the Chapel and Chapel Restrooms.
*Wifi is available.
Johnson Lodge Meeting Room
Johnson Lodge is perched right up against the edge of the lake. The meeting room can hold 40-60 guests and can sleep 42 guests between it's three floors. It has coffee service, fridge and microwave for snacks.
It also has a second, smaller meeting space on the lower floor that can hold about 25 guests. It's a great spot for breakout sessions.
*Wifi is available.
This building is only available from April-September.
Kay Norr Lounge
Kay Norr Lounge is located between Hilltop Cabin 2 and 3 (with separate entrance). It is often rented out along with Hilltop Cabins. It is a cozy space that can seat 6-12 guests.
During the summer, this space is often used for a group's First Aid and Nurse's Station as it has a fridge and can be locked separately.
*Wifi available.
Fire pits
Both of our campfire pits are located along the shore of the lake and are available year round (fire ban depending).
Upon request, we will reserve a campfire pit and set up the wood. Your host will give you a box with kindling and a lighter so you can light it. The large fire pit (seats ~150) is located near Okerson Lodge, and the small fire pit (seats ~75) is near Lakeside Cabins, Chapel, and Lundgren Lodge.
Reserving a camp fire pit is first come, first served, so let Guest Services know the day and time that you are putting that on your schedule.
Please be sure that you have wrapped up by 10 PM in order to abide by the noise curfew.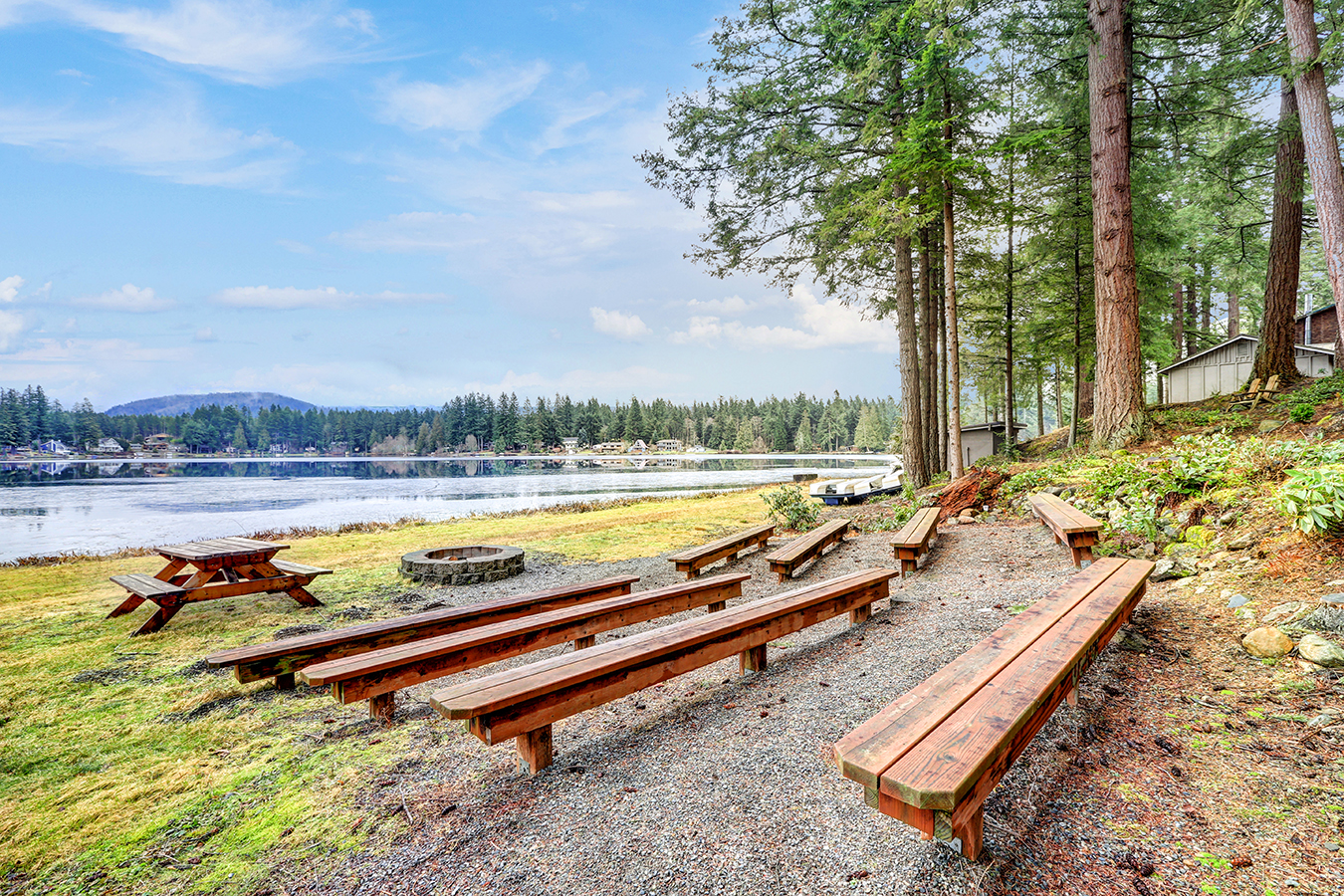 *Password protected Wifi is available throughout most of campus, although it and all technology/audio/visual equipment is not guaranteed. Your guest group coordinator will receive the password at check-in and may or may not choose to give it out to campers/guests. Lake Retreat does not provide tech support.